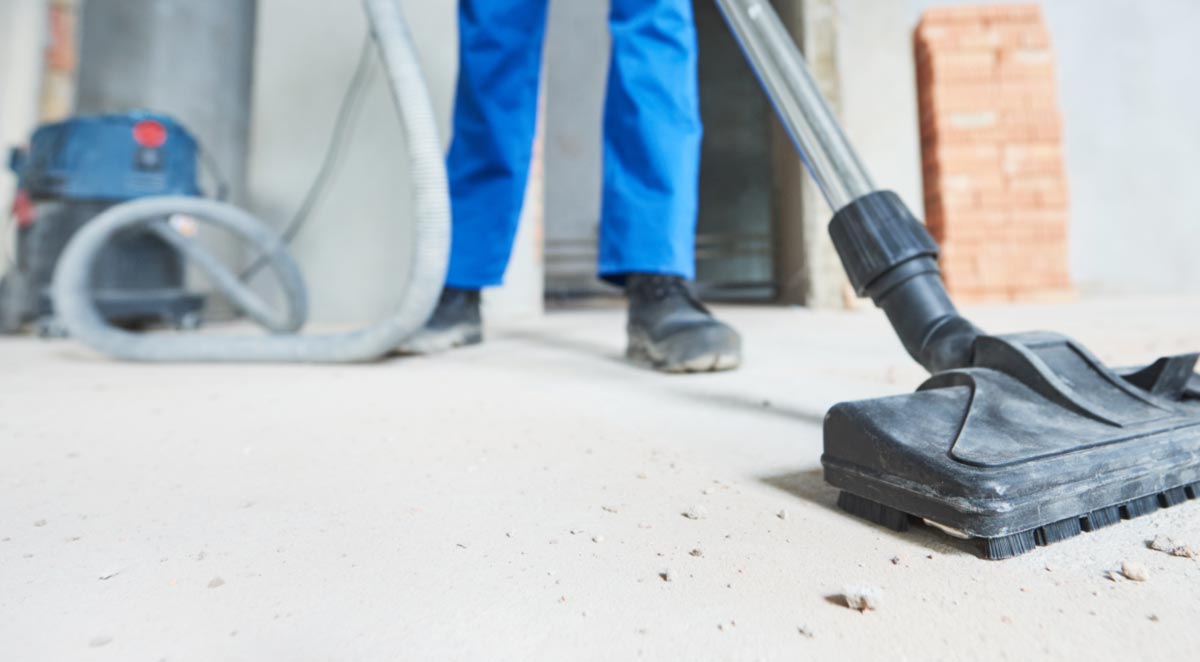 Building or remodeling a new home or business can be exciting, but unfortunately, construction can leave settlements of dust and debris that can be difficult to clean up. You can clean this yourself but it requires specific equipment and labor, leaving you exhausted and not able to sit back and enjoy your finished project. 
Most people choose to hire a post-construction cleaning service to take care of the job and the price varies depending on the size and scale of the project. Keep reading to find out how much you should budget. 
Benefits of Hiring Construction Cleaning Professionals
No doubt construction and remodeling jobs are messy. Wherever you are tearing out a wall or building a new one, it produces a lot of dust that can get everywhere within a home or retail building. When the dust and debris settles, it can fall into forgotten places that aren't obvious when cleaning.
Construction workers and other people coming in and out may track mud and other substances throughout their work area. Any materials, new surfaces such as cabinets, floors, and windows may have resided that needs to be washed off. All of the things can technically be cleaned by the home or business owner, but it requires a time commitment and you may not have the proper cleaning materials necessary or realize where all the places and areas the dust and debris settled. Leftover materials like nails, glass, or wires can be hazardous and should be handled properly. 
Professionals know how to dispose of these correctly so you don't have to. The benefit of hiring a post-construction cleaning crew is they can thoroughly clean space from top to bottom and leave it in move-in ready condition. 
Post Construction Cleaning Process
Cleaning services have a process that can change depending on the cleaning job to best meet your needs. However, there are three general guidelines that they follow:
Rough Clean: This includes cleaning during construction and before the work is complete. Cleaning plywood, concrete floors prior to new flooring, scrubbing walls, and preparing surfaces. Other rough cleaning involves removing any trash or debris towards the end of construction. This is optional.
Interior Finish Clean: This step is to clean all the surfaces in and around the construction zone. From tiny crevices to ledges where dust settles to large areas. We clean every single surface in the home. We also disinfect while we are cleaning with our EPA-Certified botanical disinfectant so your home truly starts fresh.
Follow-up Clean: Sometimes after a cleaning more dust settles from the air and we can come back and do a quick clean for much less time than the initial Interior Finish cleaning. Sometimes the construction workers need to return after we have been there to do a "punch list" which may require some cleaning afterward as well. 
Labor and Cost: Depending on the scope and size of the job and how well it was maintained by the construction crew labor cost can tremendously vary in prices. You should also factor in what a professional cleaning crew can do. From the experience in cleaning at these job sites to having the know-how and the right equipment. Asheville Cleaning Company bills by the hour but you can get a rough estimate of what the cost will be by multiplying the square footage by $0.29 per square foot. This is the average for a home construction site that has a normal amount of dirt and debris. As mentioned above, follow up cleans can cost much less 
Additional Costs and Considerations
Here is a list of things you might want to consider when hiring a post-construction cleaning service:
Many contractors clean up after the job, but if you want to be guaranteed a deep clean after construction, the only way is to hire a service that specializes in cleaning. 

Small cleanup jobs like the renovation of one or two rooms take about a day to clean, while larger jobs may take two to three days.

Post-construction cleaning service also can offer other cleaning services such as disposing debris after a disaster and cleaning up hazardous items, so you don't have to. 
If you want to do post-construction cleaning yourself, consider renting a dumpster to dispose of the debris. Make sure you have good cleaning equipment like a high-powered vacuum and cleaners that can remove adhesive from glass or wood. Use microfiber towels, air filters, and specially filtered vacuums to help trap the dust.
Asheville Cleaning Company
If you are looking for a post-construction cleaning, the team at Asheville Cleaning Company has years of cleaning experience and is dedicated to commercial and residential cleaning with earth-friendly practices and non-toxic cleaning for everyone's safety and well-being. We have been a small local business since 2012 and will always make sure that all client's standards are met, guaranteed. If you are interested in our cleaning services in the Asheville area, please contact us for more details.
Check out our Post-Construction Cleaning Checklist Asheville, NC, if you're considering tackling a post-construction cleanup on your own.