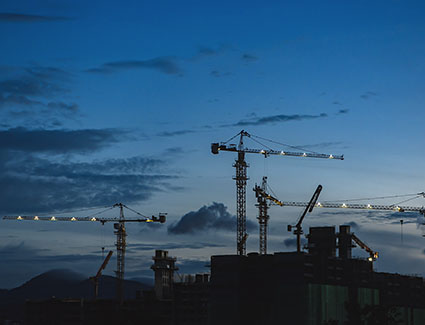 There is always a lot of construction going on in the Asheville area. Buncombe, Henderson, and surrounding counties have been growing rapidly for decades, but these days it seems like there is a new skyrise every week. It is easy to see what attracts new residents and businesses to our area. We have thousands of miles of hiking and mountain biking trails, fly-fishing and watersports, excellent restaurants and beautiful art, and of course, stunning beauty at every turn. Asheville's economy is flourishing as well. There are great jobs available to those who choose to call this area home. 
Whether you are part of building residences or commercial property, post-construction cleanup is vital to the process. Contractors know how a mess left behind after construction can sour the experience for clients. Nevertheless, cleaning up after a project is complete can be tedious and details are easily forgotten. Asheville Cleaning Company is here to help with your post-construction cleanup process, so you can make sure your project is a total success. 
Post-Construction Cleanup Process with Asheville Cleaning Company
There is always a lot of excitement when moving into your newly constructed home…and a lot of work! The final touch in the process is getting your home clean and letting all that hard work that went into building your home really shine. These cleans require a lot of detail so that all the construction dust is removed. We clean and shine every surface and crevice, high and low so it will feel like home on move-in day.
Have you recently finished construction on your house or retail building? If so, it's time for post-construction cleaning. Our checklist includes:
Dispose of all outdoor and indoor waste

Thoroughly wipe away all dust from every surface of the home 

Disinfecting high touch surfaces with EPA-Certified disinfectant

Vacuuming all floors and mop all non-carpeted flooring 

Clean smudges and debris from mirrors 

Spot clean windows and wipe all windowsills, baseboards and trim

Dust ceiling fans, handrails, and banisters

Clean and disinfect all bathrooms, including inside the cabinets

Dust and wipe vents and air filter covers

Clean every bit of the kitchen including inside cabinets

We take extra steps to make the home smell good with 100%  natural scents we use while cleaning
Whether you are finishing up a retail or residential building for a client or wrapping construction on your own home, Asheville Cleaning Company is here to help. Contact us for your Asheville area post-construction cleaning needs.