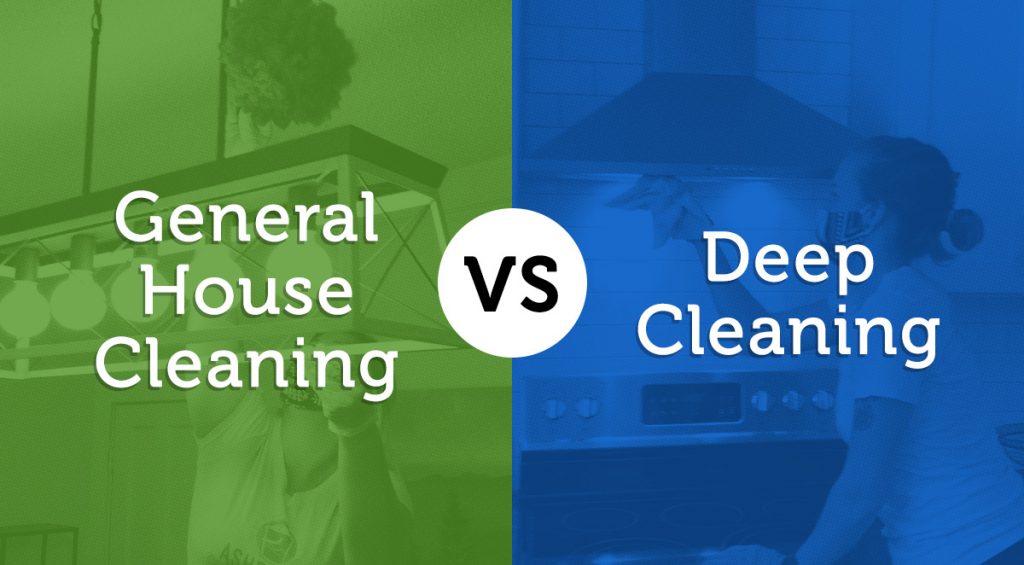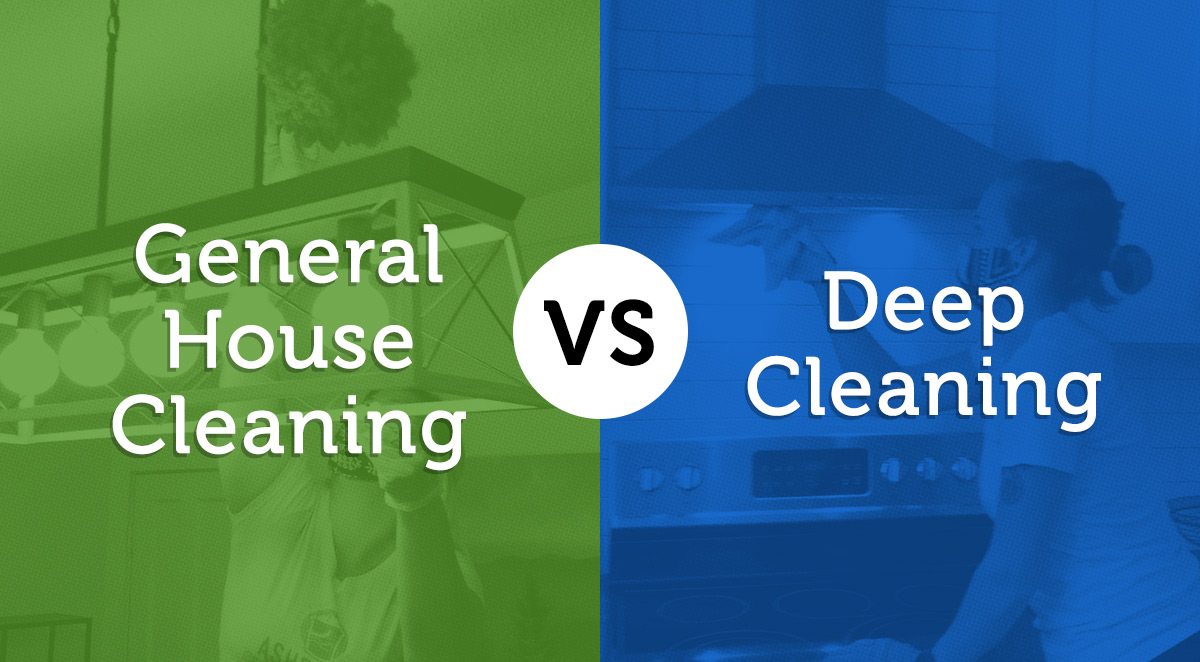 Everybody knows a clean house is a happy house. But sometimes, there is simply not enough time to properly clean your space. That is when professional house cleaners come to save the day. But, you might not know what to expect or exactly what services your money is paying for. 
Typically all cleaning companies offer deep cleaning and general routine cleaning. If it is your first time hiring a house cleaning service, you will most likely be required to start off with an initial deep cleaning session. This is to create a baseline to bring your home back to the same level when scheduled for general cleaning. 

Deep Cleaning Explained
A deep cleaning is good for when you are moving, going to have guests over, or preparing for the holidays. This covers areas that you don't even typically think to clean. While choosing to get your entire house a deep clean is the best option for optimal health and wellness, sometimes that is not necessarily in the budget. There are deep cleaning options that just cover certain areas you need help with and make it easy to stay within your budget. 
The most thorough deep cleaning session includes "The Works," a top-to-bottom, inside and out cleaning. This includes everything in the standard general cleaning session and some extras–
Inside of range hood cleaned

Inside of oven cleaned

Inside of fridge cleaned

Inside of microwave cleaned

Inside drawers and cabinets cleaned

Under and around appliances

Dusting top to bottom

Wall marks cleaned

Window marks cleaned

Individual knickknacks cleaned

Tile grout scrubbed

Wastebaskets sanitized

Furniture cleaned

Under furniture cleaned

Scrubbing floors clean

Doors cleaned

All trim cleaned
General House Cleaning Explained
General cleaning typically entails areas of the house you would clean every week. This general cleaning helps keep your home at the cleanliness level you deserve. These routine cleanings can be scheduled once a week to once every four weeks. One of the great things about hiring a professional cleaning company is that they will work with you, around your schedule, to provide efficient and thorough cleaning services. 
Don't Just Choose One or the Other
You might be deciding which option sounds like the better option for you. Stop! It is super important to include both cleaning services for the health of your home, family, and you. 
Deep cleaning typically needs to occur around every six months. This ensures that your appliances and hardware such as your toilet, shower head, oven, dishwasher, washer, and dryer are running as efficiently as possible. You are making your life much easier and giving yourself peace of mind. 
General cleaning sessions easily become a part of your routine without you even noticing the team in your home. These sessions are essential to clean your home of dust, dirt, and debris. 
Still on the Fence?
Don't be. Professional cleaning companies are experts in knowing which products clean the best and which tools handle the job the best. Suppose you are worried about people coming into your home. That is understandable, especially amidst a pandemic, but professional cleaning experts know better than anybody the importance of staying sanitary and safe. Hiring professional cleaners means that you do not have to worry about a thing; the cleaning company provides all high-grade cleaning supplies, state-of-the-art equipment, and a professional skill set. 
Asheville Cleaning Company's Promise
When searching for a professional cleaning team, don't look any further; Asheville Cleaning Company uses an EPA-Certified disinfectant for COVID-19 that is hospital-grade, botanical, and non-toxic. The team only uses products that they would use in their own home and are not harmful to the planet, and everyone resides in it. The team helps protect the earth with reusable bottles, reusable rags, and reusable mop covers that are cleaned and disinfected between every job. Contact the team at Asheville Cleaning Company for a free estimate or hear more about our methods for residential and commercial cleaning.