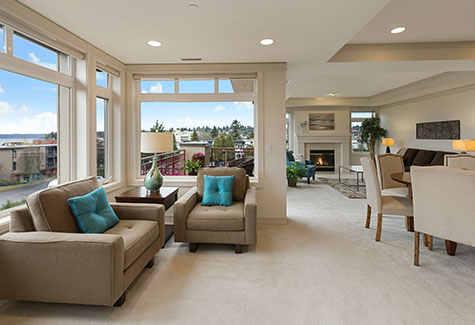 Nestled between Biltmore Estate and the city of Asheville proper, Biltmore Forest is a slice of some of the best living that Western North Carolina mountains offer.
Over the past few years, we have spent significant time inside. And while we have started visiting places and exploring the outdoors of Asheville again, for many people, this switch to a more home-based lifestyle is here to stay with a jump in work-from-home opportunities. So whether you are still working or have eased into a beautiful retirement, cleaning can unexpectedly and quickly build up.
Luxury House Cleaning in Biltmore Forest
Proper cleaning is essential and often more difficult for those in luxury homes. Magnificent hardwood floors and details, custom countertops, specialty tiles, and exquisite light fixtures all require a specialized and delicate touch to clean safely. You don't want to risk damaging your custom home or furnishings, but you also want it to shine and welcome you in every time you return.
Hiring a professional cleaning service with the experience required is a superb way to keep up with maintaining your home and give you more time to enjoy what really matters in life.
Asheville Cleaning Company
At Asheville Cleaning Company, we offer a range of residential cleaning services that we tailor to every client. All services start with a one-time cleaning that is thorough and includes top to bottom and inside and out of everything; appliances, top to bottom kitchen and bathroom, dusting, cleaning wall and window marks, furniture, trim, and deep floor cleaning.
From there, we offer routine cleaning if you want to eliminate the hassle of cleaning up around the house. After a deep clean, we come back regularly as best fits your schedule to refresh that cleaning. Our most common rotation is scheduled as a biweekly service. But we can also schedule weekly or triweekly as needed.
Just leave the cleaning to us while you visit friends and explore Asheville!
Green Cleaning
Asheville, North Carolina, is known nationwide for its outdoor lifestyle. Residents and companies alike love the beautiful nature that surrounds us. Asheville Cleaning Company is proud to provide reliable home cleaning solutions. When we clean, we use high-quality and non-toxic products, including:
EPA-Certified disinfectant that is hospital-grade, botanical, and non-toxic
Reusable cleaning and protective gear for employees
HEPA [high-efficiency particulate air] filter vacuums
Bon Ami: a non-toxic and biodegradable natural scouring  powder
We only use products we feel comfortable using in our homes that are not harmful to our employees, clients, or the planet. Our green cleaning can give you peace of mind about the environmental impact and the safety of any pets or children in the home.
Your Trusted Cleaners
Whether you plan on letting us handle cleaning regularly or only need us once, let us help take a little off your plate.  Asheville Cleaning Company is committed to green cleaning excellence, fair and livable wages, a positive workspace, and environmentally friendly practices.
We want our customers to be 100% satisfied with every clean. Through our experience, we have created an efficient way to provide our neighbors with healthy, spotless homes and workplaces. When you hire Asheville Cleaning Company, you will know we believe in the service we provide you.
Call us at (828) 771-6320 or put in a cleaning request online to get started on a free estimate for your personalized cleaning service.