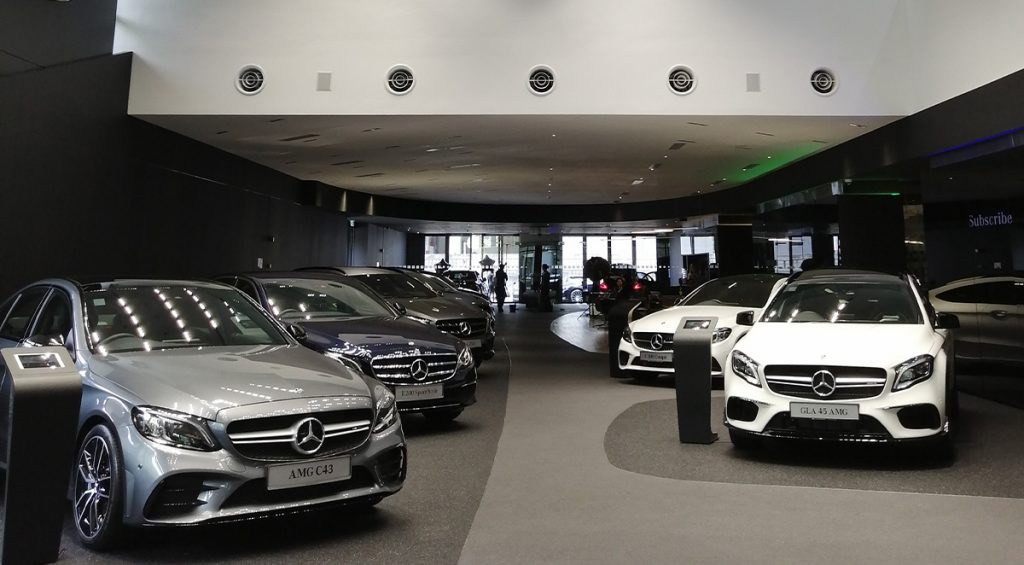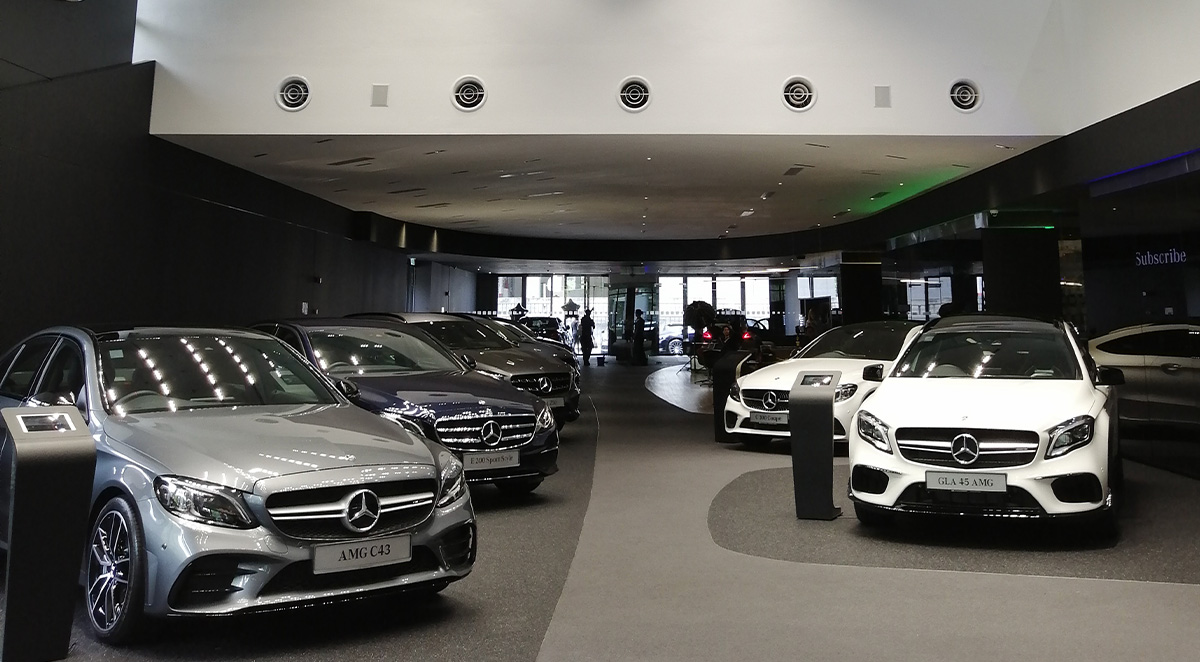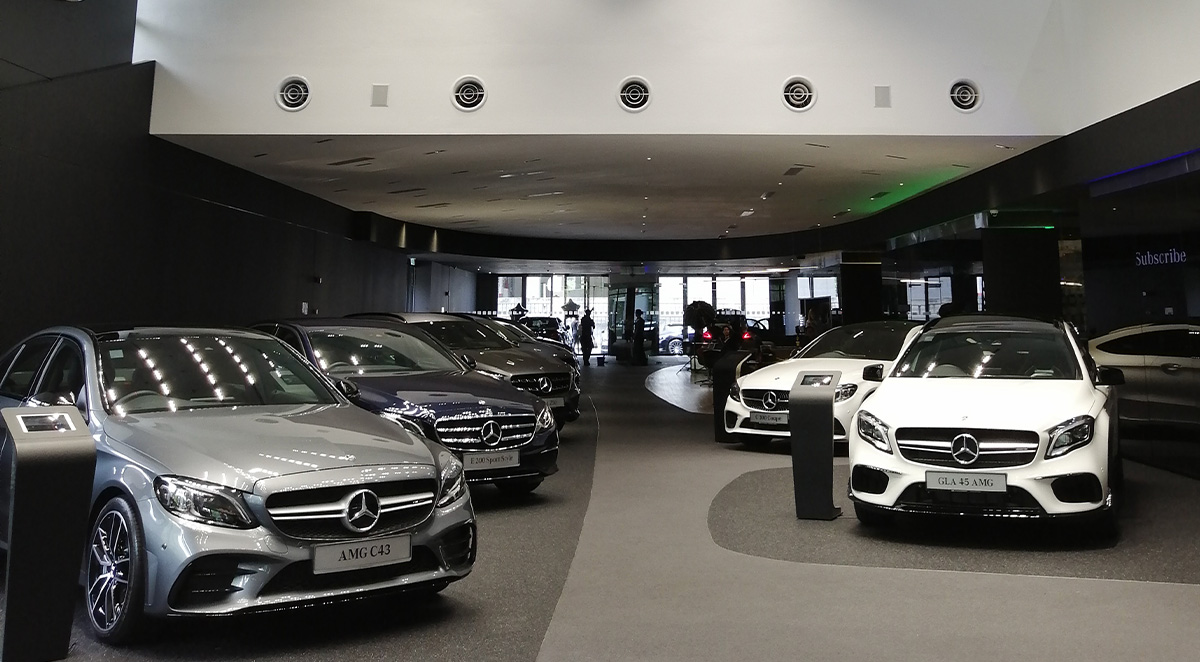 Buying a car is a big and important purchase for most. So, a lot of time and consideration are taken before making the leap. That decision-making process all starts when walking into a car dealership. A clean and tidy space makes a huge impression. A clean environment is much more inviting and enjoyable to shop in. Customers will feel more at ease to remain longer, and you are more likely to close the deal.
Representing the Brand
In this case, looks do matter. Customers are deciding to check out your auto dealership just by the outside appearance. If that passed the test, then next is how the inside is taken care of. This image is representing the brand of your product or service. Your image is extremely important, especially in the high-end retail world of cars. 
There are so many areas of importance in the dealership that it can actually save you money to hire a professional cleaning company. That way, your staff can focus on selling and servicing the vehicles. The professional cleaning company will bring all their own eco-friendly cleaning products and state-of-the-art cleaning equipment, so you skip the expense of purchasing your own supplies. 
Areas Serviced
Display Windows: Clean, streak-free windows are a must so the natural light can shine through and highlight the finish on the new cars. 
Showroom Floors: Shiny showroom floors keep the attention on the new vehicles on display.
Offices and Cubicles: This is where the deal goes down, so the customer needs to feel relaxed and confident in their purchase. A clean and tidy office space gives your customers that sense of reassurance. Commonly used items such as telephones, doorknobs, and light switches are disinfected.
Lobbies and Waiting Rooms: You don't want your customers waiting and spotting dust, dirt, or grime. Upholstery cleaning, dusting all surfaces, and general disinfecting is standard practice when hiring a professional team. 
Restrooms: Arguably the most important area to keep clean for the safety of everyone. Disinfecting all areas of the bathroom and restocking general supplies are included in the cleaning service.
Parking Lot: Keeping the parking lot clean of debris helps the focus stay on the vehicles for sale. Sweeping and power washing ensure the image is maintained. 
Health and Safety in the Workplace
Cleanliness in the workplace is directly correlated to employee wellbeing. You can't run the car dealership without a team, and putting your employee's health and safety first, shows them that you value them greatly. A clean and hygienic work environment promotes productivity and happier employees. Workers will take pride in their job and come ready to take on the day. 
Clean car dealerships help prevent the spread of viruses and illness. With many commonly touched surfaces in a dealership, it is essential that frequent cleaning take place. With COVID-19, it is even more important to sanitize with the proper supplies. A professional cleaning company takes the extra precautions to use the highest grade products to ensure everyone stays healthy. 
Make the Right Impression
Keeping your car dealership clean and pristine shows your customers that you care about their experience and value their time. It also shows your employees that you care about creating a safe and stress-free workplace. Maintaining a clean physical appearance not only makes the right first impression on potential buyers but creates a positive work environment. This leads to more productive employees, higher job satisfaction, and a positive impact on your bottom line. 
Why Asheville Cleaning Company is the Best Choice
Experts in the field since 2012, Asheville Cleaning Company is detail-oriented and will work with you to customize a cleaning schedule– whether that be daily, bi-weekly, weekly, bi-monthly, or monthly. We promise to deliver a sparkling clean dealership while minimizing disruption to your business. We never use toxic cleaning products, only products we would use in our own homes. With our highly trained team, you can be confident in us to get the job done right, naturally. Call or text us at (828) 771-6320 to find out more about our services or receive a free estimate.