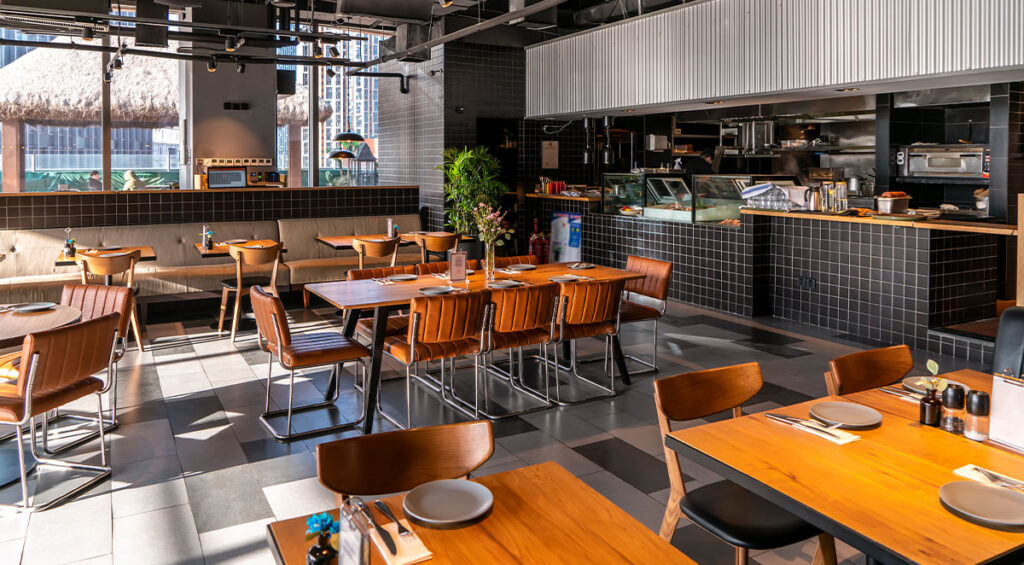 Restaurant cleaning is not a question when it comes to your business. As people walk through the doors of your establishment, they notice everything and then go on to use the power of social media and review sites to either praise or trash your business. Not only that, but a dirty restaurant puts patrons at risk for foodborne illness, which can lead to health department violations, fines, or even the closure of your business.
One way to get ahead of the curve is to hire a restaurant cleaning service. These professionals will offer a variety of services that will keep your establishment looking great, while meeting the hygiene requirements of your local health department. However, this service can seem quite costly if you're not careful.
To help break down the costs of cleaning a restaurant, we have put together a guide so that you can better understand how cleaning businesses set up their pricing structure.
Average Cost of a Restaurant Cleaning Service
The average cost of a restaurant cleaning service is roughly $85 per hour. However, those rates can range anywhere from $20 to $150 per hour. So why the massive variance? Well, there are a ton of factors that go into pricing out a restaurant cleaning.
For one, light cleaning may only include dusting, vacuuming, and cleaning bathrooms and will typically average around $40 per hour. However, if you hire someone to clean your kitchen to health department specifications, you may be looking up to $150 an hour, or even more. Professional carpet cleaning can range anywhere from 5 cents per foot up to twenty-five cents per foot for typical steam cleaning of synthetic fibers.
Many cleaning services will be able to recommend exactly what you need when you need it and put together a quote for whatever timeline you require. More often than not, these cleaning services are fairly flexible and can work within just about any budget.
Why Hire a Restaurant Cleaning Service?
Cleaning a restaurant can take up a lot of time from your and your teams already busy schedule. Sure, your staff should be able to pick up and clean throughout their shifts, especially if it is slower. However, sometimes it is hard to justify putting on additional labor against your bottom line to clean your front of the house, when you can hire a cleaning service to do it for just a little bit more and have the correct tools and experience to do it right efficiently.
Not only that, but adding the additional stress of deep cleaning the front of the house can hurt your team's morale and cut into time that they could be doing more productive things, such as coming up with new menu items, learning the specials, giving great customer service, and so forth.
What Do Restaurant Cleaning Services Take Care Of?
If you have spent any time in the food service industry, you know how long those cleaning task checklists can be. There are often daily, weekly, and monthly tasks, and of course, the occasional deep cleaning for when you are expecting to see the health inspector.
By working with a professional restaurant cleaning service, you can take some of the following things off of your very full plate:
Dining Areas: The dining areas are the heart of any restaurant, and they require regular attention to ensure a clean and inviting atmosphere for customers. Tables, chairs, booths, and other furniture will be expertly cleaned and sanitized. They can also clean windows, mirrors, light fixtures, and any decorative elements in the dining area.
Restrooms: Clean restrooms are of utmost importance in a restaurant. All bathroom surfaces, including the floors, mirrors, countertops, sinks, and urinals, will be cleaned and disinfected by qualified cleaners. They will also replenish essential supplies such as toilet paper, hand soap, and paper towels.
Floors and Carpets: Restaurants often have various types of flooring, including tiles, hardwood, or carpets. Professional cleaners have the expertise and equipment to clean and maintain all types of flooring. They will vacuum carpets, sweep and mop hard floors, and use specialized techniques to remove stains and maintain their appearance.
Windows and Glass: Clean windows and glass surfaces play a significant role in creating a positive impression of a restaurant. To ensure that customers have a clear view, professional cleaners will clean the interior and exterior of windows, removing dirt, smudges, and fingerprints.
Furniture Upholstery: Upholstered furniture, such as chairs and booths, can accumulate dirt, stains, and odors over time. Professionals will employ appropriate techniques to deep clean and sanitize the upholstery, removing stains and restoring freshness to the furniture.
Entryways and Reception Areas: The first impression a customer has of a restaurant is often formed in the entryway or reception area. These areas will be kept clean, well-maintained, and clutter-free. They will clean floors, wipe down surfaces, and keep the area tidy.
General Cleaning: Beyond specific areas, professional restaurant cleaning services also cover general cleaning tasks throughout the establishment. This includes dusting surfaces, wiping down countertops and shelves, cleaning light fixtures, and removing cobwebs. They will also empty and sanitize trash and recycling bins.
Outdoor Areas: Some restaurant cleaning services may also extend their expertise to the outdoor areas of the establishment. This could involve sweeping and cleaning outdoor seating areas, patios, and entryways, as well as removing trash and maintaining a tidy appearance.
Eco-Friendly Restaurant Cleaning Services In Asheville, NC
If you have a restaurant, keeping it clean is an absolute must for the success of your business. Asheville Cleaning Company offers the best eco-friendly restaurant cleaning services around.
When we clean businesses, we think about all of the spaces that people may notice while they are sitting and eating. We are here to take good care of your business so that you and your employees can focus on the mission at hand.