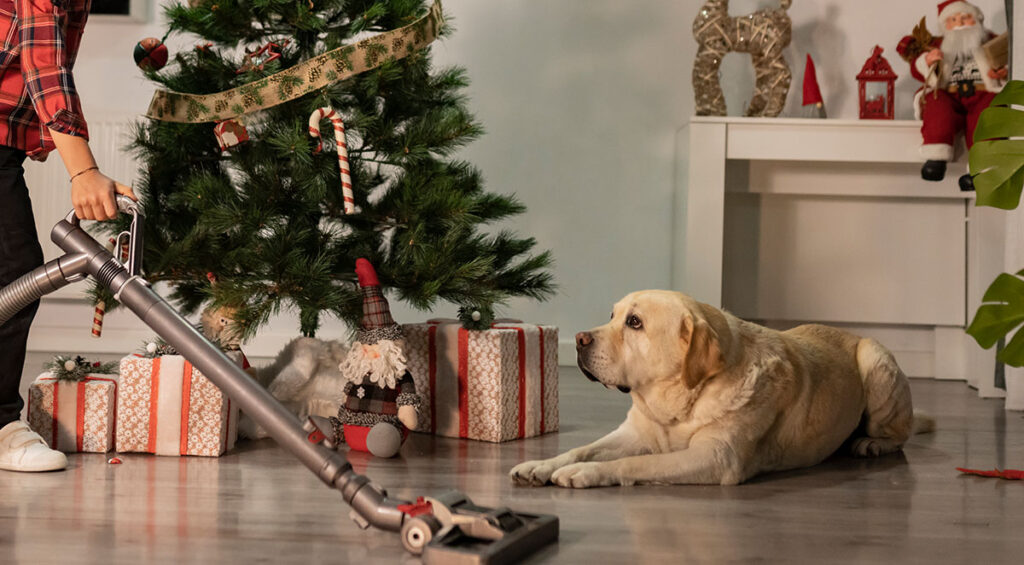 Have you ever found yourself scrambling to clean up your house before guests arrive? For many people, cleaning only happens when it is time to entertain friends, when family members are coming to visit, or when you are hosting a party. As Thanksgiving and Christmas approach, so does the time of year when you are expecting family members or friends from out of town or planning holiday gatherings.
Rather than throwing all the clean, yet-to-be-folded laundry in the hallway closet and rushing to wipe down the bathroom surfaces, so it at least looks like it has been cleaned, why not let a professional cleaning service help you get your home guest ready this year? Not only will this alleviate stress, but your home will actually be cleaned thoroughly.
You will be able to rest easier knowing you didn't forget to wipe down the bottom of the toilet seat, and your guests won't be buried under a pile of toys if they decide to open the wrong closet. If you start your cleaning service now, you can focus on spending time with your loved ones and making your home feel warm and welcoming with seasonal decorations by adding your own personal touches.
Get Your Home Guest-Ready with These Cleaning Tips
When your home is being cleaned by professionals, you can focus on the finer details, saving yourself time and stress. Here are some tips for adding these finishing touches, ensuring your home is ready for hosting friends and family this holiday season.
1. Declutter for Ten Minutes Each Day
While cleaning professionals may pick up toys, fold blankets and return your belongings to the appropriate places, it is much easier to maintain a clean home when you minimize the amount of clutter.
Try setting a timer on your phone for ten minutes every day, and spend this time decluttering. If there are items you do not use anymore, consider throwing them away or donating them. For things you want to keep, make sure they are stored in an organized way.
2. Give Everyone a Job
You may have a professional come to clean monthly, but there are still tasks that need to be done daily or weekly. If every member of your family has a job to do, keeping a clean home will seem much less daunting.
Giving your kids age-appropriate chores will also teach them responsibility and will give them a sense of ownership. Consider creating a chart or reward system for your children to help motivate them.
3. Perform Regular Maintenance Tasks
Since the holiday season also overlaps with cold and flu season, and you will likely be spending time with elderly relatives during this time of year, it is important to keep your family healthy. Changing your home's air filters is an often overlooked chore, which can help your family avoid winter sickness.
Other tasks which can and should be done annually include the following: cleaning your dryer and dryer vents, cleaning behind appliances (such as the refrigerator, oven, and washer/dryer), shampooing the carpets/rugs and upholstery, and deep cleaning the oven and dishwasher.
4. Decorate with a Plan
Decorations help your home feel more welcoming and allow you to make your space more comfortable so you can relax and enjoy the season. No matter what your style is, decorations can completely transform your home.
While you are decorating, make sure to have a plan in mind for how you will store your decorations after the holidays are over. Having this plan will help you avoid unnecessary clutter and will keep you from procrastinating when it is time for the decor to come down.
5. Clean Your Refrigerator
Whether you are hosting guests in your home or not, there is a good chance you will be doing some holiday baking or preparing dishes to take with you to various gatherings. As such, you will need to clean out your refrigerator to make room for all the tasty dishes.
6. Break Up Tasks Into Microsteps
On top of everything else required of you during this time of year, the thought of staying on top of a cleaning schedule can seem overwhelming. One way to make maintaining your home's cleanliness seem more manageable is to break up the cleaning and not try to tackle everything at once.
Even when you are using a professional cleaning service, there are still responsibilities that must be done more frequently, such as dishes, laundry, and vacuuming. Identify which tasks need to be completed on a daily and weekly basis, and write out a schedule, laying out which days you will accomplish these chores.
Want more winter cleaning advice? Here are 8 tips for keeping your house clean all winter long.
Hire Asheville Cleaning Company this Holiday Season
Stay on top of your home cleaning during this busy time of year by hiring Asheville Cleaning Company. We offer a number of residential cleaning services, including one-time, top to bottom cleaning, or routine cleaning options. We also have budget-friendly services, helping you accomplish the tasks at the top of your priority list.
To book a cleaning, get a free estimate, or find out more information about Asheville Cleaning Company, contact us.